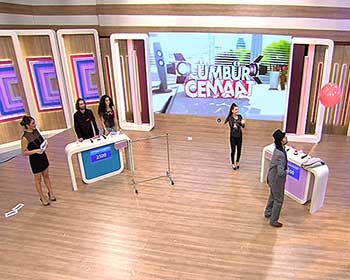 How would you work as a team with your partner? Do you want to understand how well your partner is in solving difficult challenges? Is it time to prove everyone that you are the best couple ever?
If your answer is "YES", Stand Together (Cumbur Cemaat) will be your favorite game show of all times. In this fun game show two couples accomplish difficult tasks together, while having fun and strengthening their emotional bonds.
Stand Together (Cumbur Cemaat) pits boyfriends-girlfriends, engaged and married couples against each other in a series of revealing game and question rounds to determine who is the best couple. The object of the game is to score points through difficult challenges and show the audience who is the best matched couple while having great time in the studio. The rules of the game are simple: know the personality of your partner, be the fastest in physical challenges, answer the questions correctly and on time. One of the two couples with the highest score after 5 rounds wins the competition and goes home with the big prize.