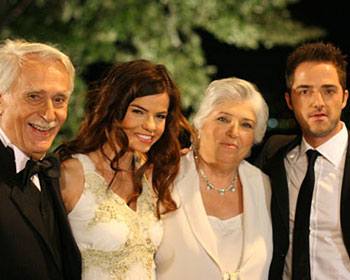 "Have you ever wondered if you had an identical twin somewhere who not only looked like you but made uncannily similar life decisions, liked and disliked the same things, and had the same habits?"
This is the story of Saner and Omer, the identical twins, separated at birth who had to live completely different lives. Their grandfather was a very rich businessman who never supported Saner and Omer's parents marriage with an excuse of their mother coming from a poor family. Saner got very sick as a little kid when his father passed away. This is when his grandfather took Saner with him to provide better health care for him and told his mother that he passed away.
Saner had such a luxurious life . Omer, on the other hand had to struggle with the difficulties of a poor life with his mother.
They both proposed to their girlfriends and got an answer of no. Surprisingly, both girlfriends from such different backgrounds and lifestyles had refused to get married with them for the same reason.
Even though Saner and Omer lived two different lives yet the behaviors, personalities and social attitudes they displayed in various situations were often remarkably alike.
This is Saner and Omer's heart-breaking life story where they had many similarities in spite of growing up in different homes.